How To Use IV Therapy With
Other Treatment Modalities

For

Long Term Health
February 14 - 15, 2023
Four Seasons - Vail CO
Our Goal Is To Get Patients Off IV Therapy
IV Therapy is an incredible gateway treatment. With little turnaround time for symptomatic improvements, it's the perfect treatment to pair with extended protocols that impact cellular efficiency for long term health benefits.
We were shocked at the training out there today. False promises to teach you the "pearls" of performing the "latest, specialized IV therapies", but void of standard compliance, proper sterilization, and effective techniques that provide actual long-term benefits.
The SSRP sets the Gold Standard for IV Therapy training. We teach you how to start, grow, and incorporate IV Therapy with extended protocols and treatment modalities so you can improve patient outcomes upon course completion.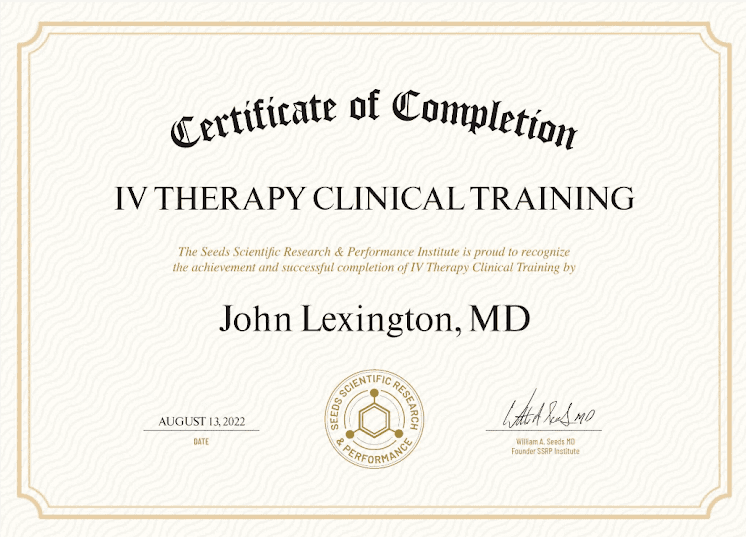 A Certification Designed For Your Clinical Success.
Everything You Can Expect From The SSRP's IV Therapy Certification
The
CORRECT

Implementation of IV Therapy
IV Therapy is quickly becoming one of the latest trends in medicine. Yet, just because someone has set up a mobile IV clinic, doesn't mean they know how to navigate compliance (ie. USP 797), practice proper sterilization, or understand the HR roles to successfully implement IV Therapy into their clinic.
The
IDEAL

Patients and Disease Types to Treat
While typically only used to increase energy and other non-medical symptoms (ie. NAD), the SSRP's IV Therapy Certification shows you how IV Nutrition Therapy can be used to treat complicated immune disorders and disease states as well. We provide an advanced understanding of how it affects the cellular mechanisms and pathways so you can safely expand your patient base.
The
PERFECT

Treatment Modalities to Pair
Want to accelerate patient results? You'll learn how IV therapy can work in concert with peptide therapy, bio-identical hormone therapy, and other anti-aging modalities that your clinic is already offering.
This is the ONLY IV Certification You'll EVER Need.
Targeted Conditions With IV Nutrition Therapy
The IV Certification Provides In Detail The Compounds, Drip Combinations & Protocols So You Can Develop Packages That Actually Work For The Following...
Type II Diabetes
Neuropathy & Pain
Fibromyalgia
Fatty Liver
Post-Covid
Cancer
Hypertension
Rheumatoid Arthritis
Immune Boost
Recovery
PMS Relief
Asthma & Allergies
Elite Stress
Pre/Post Surgery
Depression/Anxiety
Migraine
Vitamin Deficiency
Iron Deficiency
NAD
Hangover & Nausea
Fatigue
Oxidative Stress
Dehydration
Energy
Wrinkles & Tired Skin
Acne
Myers Cocktail
Brain Fog
Athletic Performance
Chronic Fatigue
Burn Fat
Boost Metabolism
Custom Compounds. Real Results.
It's crucial to know every ingredient in our custom compounds. That's why we cover in detail the individual vitamins from dose range, biochemical importance, indications, and risks.
Arginine
Alpha Lipoic Acid
Amino Blend
Ascorbic Acid
B-Complex
BCAA
Calcium Gluconate
Calcium Chloride
Carnitine
Cyanocobalamin
Dexpanthenol
Folic Acid
Glutathione
Glycine
Glycyrrhizic Acid
Hydroxycobalamin
Iron – Venofer
Lidocaine
Lysine
Magnesium Chloride
Magnesium Sulfate
Methylcobalamin
Mineral Blend
Multi Trace 5
Oxytocin
Phosphatidylcholine
Pyridoxine
Selenium
Taurine
Tri-Amino
Zinc
Zofran
A New Tangible Revenue Stream.
The SSRP's IV Therapy Certification provides more than just the medicinal science and strategies. We provide you with the "how-to's" for practical business implementation so you know what to be aware of and how to avoid the pitfalls.
Sourcing matters. You may know the right formulations and have the right protocol, but it will only be as effective as the quality of your source. We connect you with the best in the business; we connect you with compounding pharmacies you can trust.
Keeping your practice in compliance with medical regulations is a must. That's why we provide you with medical consent forms so you can protect your business. We also provide you with discharge forms to ensure the best outcome from each visit and patient handouts to educate your patients so you can properly manage expectations.
From IV EHR software recommendations to organizational workflows, you need a streamlined business structure to maximize patient experience and generated revenue. We provide you with best practices and a step-by-step process to get your clinic up and running. We cover the details commonly forgotten and the pitfalls that hurt profitability.
The most successful IV Therapy clinics make managing their supplies and nutrient inventory a top priority to prevent shortages and maintain patient satisfaction. We provide you with an inventory checklist and how to properly store your ingredients and nutrients to maximize shelf life.
There is a breakeven point that you need to hit before you ever start generating revenue. We provide you with the most profitable business models and pricing plans that cater to patients who can pay out of pocket and even to those who need to leverage insurance.
Who You Learn From Matters.
Dr. Seeds is a board-certified orthopedic surgeon practicing medicine for over 28 years, and the Founder of the SSRP Institute. He is Chief of Surgery and Orthopedic Residency Site Director for University Hospital, Conneaut & Geneva, OH. He has been honored at the NFL Hall of Fame for his medical expertise and in treating professional athletes, and serves as Professional Medical Consultant for the NHL, MLB, NBA, and NBC's Dancing With The Stars. Dr. Seeds is also a medical researcher, and continues to write and publish on the NIH and other medical journals. He is also the author of Peptide Protocols Vol.1, the world's first handbook about peptides written for practitioners.
Today at the SSRP Institute, he is dedicated to bringing Cellular Medicine and the study of the Epigenome to the forefront of the medical community through research, training, and improved patient outcomes. His practice is at the Olympic training facility: Spire Institute Geneva, OH; and at the Redox Medical Group in Beverly Hills, CA.
Dr. Juan Bautista has been involved with Men's Health and have helped patients all over the world improve their overall health & well-being. It his my belief that health must include nutrition and exercise. He is an incredible physician, board-certified in family medicine with two thriving practices – Chicago, IL and Fresno, CA.
He is dedicated to providing exceptional healthcare to underserved communities, while also treating high performance athletes including MMA fighters and professional boxers.
He is one of the Seeds Scientific Research & Performance Institute's Founding Fellows and Peptide Certification Officer.
As a life-long athlete, Dr. Will Haas has focused his professional career on optimizing health and human performance. Not afraid of breaking the mold, Dr. Haas earned his MBA while attending medical school at East Carolina University, one of the nation's top primary-care training programs. He is board-certified in both Family Medicine and Integrative Medicine.
Currently, Dr. Haas is the lead physician and CEO of VYVE Wellness, an integrative medicine clinic that specializes in IV nutrient therapies & peptide therapy. Additionally, he is the co-founder and CMO of OvulifeMD, a digital education company helping women optimize their natural fertility potential. He also holds a faculty appointment with the Andrew Weil Center for Integrative Medicine where he teaches and develops the education curriculum.
Amanda Angus, CRNA, APRN, MSN
Amanda Angus RN, BSN, MSN, APRN, CRNA has vast experience in IV therapy and in anesthesia working with Dr. Seeds in the operating room for over 10 years. She opened up her own successful IV therapy clinic in 2020 specializing in Ketamine and vitamin nutrition for difficult patient cases such as ALS and Parkinsons.
She has audited the 'top' IV nutrition therapy courses, has debunked the ineffective IV formulations, has in-depth knowledge on the combinations that DO work, and has worked with Dr. Seeds for the last 10 years making custom IV solutions for their patients. She is truly one of the pioneers of IV therapy, treating patients with life threatening diseases using IV's. Her masterful techniques and her balance of adherence to compliance with profitability, made her the perfect addition to our lecture staff for this certification course.
And Here's Everything You'll Learn...
A comprehensive introduction to IV Therapy so that you know what it is and what it is not.
An advanced understanding of IV Therapy: how it affects the cellular mechanisms and pathways, and how it can bring efficiency back to the cell.
To understand both the short and long term goals of IV Therapy.
The HR roles required to run this successfully so that you know who to find and what to ask for.
The important guidelines of USP 797 that pertain to IV Therapy so that you can fully execute the sterilization and preparation techniques of IV's.
The requirements of IV Nutrition Therapy so that your practice stays in compliance.
How to customize vitamins into IV bags so that you are able to cater to the patient's specific goals.
Expert IV insertion techniques so that you get it right everytime.
Pre-existing conditions to be careful with when prescribing IV Therapy so that you'll have your bases covered.
The most effective drip combinations and frequency so that you can develop packages that actually work.
Dose range, benefits, and risks to each of the nutrients used in IV so that you will be comfortable with prescribing IV's.
How to harness the power of IV Therapy with additional modalities and take it to the next level of care.
How to discuss IV Therapy with patients in a way to keep you in compliance, manage expectations, and convert to sales.
The future of IV Therapy so you are aware of what is coming down the line, and stay ahead of the pack.
What Separates This Training From All The Rest...
Integrated Treatment Modalities.
Harness the Full Therapeutic Power of IV Nutrition by Combining It With Other Anti-Aging Modalities.
Why stop short with just IV's? That's why we train you with an advanced understanding of IV Therapy: How it affects the cellular mechanisms and pathways, and how it can bring efficiency back to the cell utilizing these additional anti-aging treatments.
HORMONE THERAPY
See how IV Therapy works in concert with this patient-requested service that continues to grow in demand because off the quick symptomatic improvements.
PEPTIDE THERAPY
If you're not including peptides into your protocols, you could be missing an incredible opportunity to grow your practice and improve the outcomes of your patients.
SUPPLEMENTS
The incredible supplements that extend the benefits of IV Therapy. You'll learn about the specific supplements that work better when used together!
Don't Just Take Our Word For It
The SSRP Is The Leader In Next-Level Medical Training
The SSRP Institute has made its mission to provide the latest in Cellular Medicine training to practitioners in the integrative, functional, anti-aging, and regenerative medicine space. Everything the SSRP stands behind is for long-term benefits that will optimize people to their fullest potential.
- Elizabeth Yurth, MD, Faculty
This two-day live or virtual certification training will take place February 14-15, 2023 in Vail, CO at the Four Seasons Vail Resort & Residences. It will be recorded for both live and virtual attendees. By registering you will receive:
IN-PERSON REGISTRATION - $500 OFF
This is the ONLY In Person Training Scheduled To Date
Availability WILL SELL OUT
2 Day All-access Pass
Networking Cocktail Reception
Breakfast and Lunch on Conference Days
Official SSRP Framed Certificate of Completion
Video Recordings of Course Material
LIVE ONLY: IV Application After-Hours Demonstration
LIVE ONLY: Business After-Hours Roundtable
VIRTUAL REGISTRATION - $500 OFF
Virtual Live Stream Access to Conference (does not include after-hours events)
Official SSRP Certificate of Completion (PDF ONLY)
Video Recordings of Course Material
1 Month of SSRP Membership
Optional Add-on: Printed and framed SSRP Framed Certificate of Completion ($499)
You Will Also Receive These Bonus Materials...
In addition to the lectures, you'll receive PDF dossiers with course exclusive material that includes:
The top IV vitamins and compounds that include:

Dose Range
Benefits
Contraindications
Risks

The formulations for the most effective vitamins above
Sample consent forms so everyone's expectations are managed
Sample pre-procedure forms to prepare your patient for the best results
Sample discharge forms to ensure the best outcome from each visit
Master Inventory list so you have all the equipment ready to go
This is everything you need to succeed in providing IV Therapy to your patients and utilize it as a gateway to enter the other anti-aging and regenerative services and protocols that you already have.
Please note: this is for licensed practitioners only, not for the general public.